"Let the loser cry": how did his rivals respond to Loginov's victory
After the victory of Alexander Loginov at the Biathlon World Cup stage in Oberhof, a number of his rivals criticized the Russian athlete. In particular, Martin Fourcade and Sebstian Samuelsson reminded of the doping scandal in which Loginov was involved, and said that the athlete would have to apologize. Meanwhile, Johannes Bo, who took second place, carefully commented on this situation, noting that he would try to defeat the Russians on the highway. In turn, commentator and journalist Dmitry Guberniev expressed the opinion that Loginov's rivals simply could not adequately accept defeat.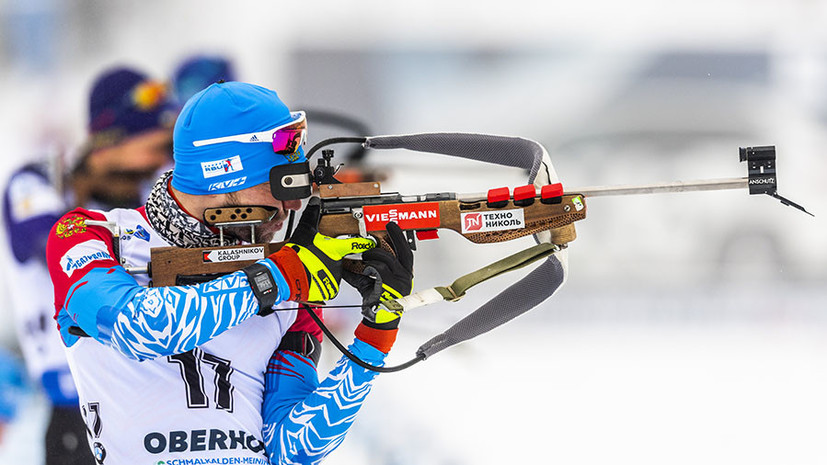 ---
"I do not respect the act of Loginov"
Loginov's victory in the sprint race at the Biathlon World Cup in Oberhof did not leave anyone indifferent. If the Russians were happy about Alexander's first such career in success, then his foreign rivals barely restrained their emotions, recalling the biathlonist's doping past, who had served a two-year suspension for using erythropoietin (EPO).
The first to comment on this topic was Marten Fourcade left without medals. The Frenchman lost to Loginov almost 50 seconds, and then called the victory of the Russian "shame" and said that he did not respect Alexander. In response, he promised to talk with Fourcade face to face.
At the same time, the conflict between the Russian and the French has a long history. During the 2017 World Championships in Kontiolahti, Martin, during the mixed relay, put Alexander on the bandwagon when he went to his own stage, but at the awards ceremony refused to shake Loginov's hand. As a result, the situation was settled with the help of Anton Shipulin, but the attitude of the seven-time World Cup winner to the opponent, apparently, has not changed.
Repeatedly harsh remarks about the Russians allowed Sebastian Samuelsson. After the Swede pulled out the bronze in rivalry with Benedict Doll and Arnd Peiffer, the fans with great interest waited for the award ceremony and tried to predict whether the opponents would shake hands. As a result, the handshake took place, but a little later, Samuelsson supported Fourcade.
"I do not respect Loginov's deed, but I don't know him as a person. Loginov himself could apologize to the entire biathlon family. If you took EPO, you have nothing to do here. But if you show that you regret what you have done, it will be a little easier for you to trust in the future, "Samuelsson quotes NRK.
But the runner-up Johannes Boe, who previously also demanded an apology from Loginov for the doping past, this time spoke out on a sensitive topic with extreme caution.
"It's hard to comment. I have already spent too much power on Loginov, leave everything as it is. Better try to beat him on the track. Biathlon is very popular in Russia, there are many of our fans. If we do not treat them well, they will answer us the same. It is unpleasant, but because of this we cannot express our position. I hope that other people will deal with these issues, and I will be able to do my job, "quotes the words of Be TV2.
Another Norwegian, Henrik A'Abe-Lund, also called on Loginov to explain to his colleagues.
"He served his punishment, but an apology would not hurt. Fraudsters are playing unclean, so apologizing would be an honest act on his part, "the biathlete stressed.
"There is nothing to do with the words of Fourcade and Samuelsson"
However, some, by contrast, supported Loginov. For example, the compatriot Be and L'Abe-Lund, Ole Einar Bjorndalen, acted this way. The eight-time Olympic champion urged to respect the Russian citizen, who had already paid for his deed.
"He served his punishment for doping; you need to respectfully relate to the fact that after that Alexander did return. But some people reacted negatively to his victory. We can say that many people didn't like this result in the biathlon environment, "Björndalen TV2 quotes.
Finally, Johannes's brother Bø Tarja expressed the opinion that Alexander is currently winning honestly and no longer uses doping.
"We try to follow the rules. We celebrate when athletes are caught on dope. Loginov returned after two years of disqualification. We expect him to be clean and compete with us on equal terms, "the Norwegian said.
Finally, the well-known domestic commentator and journalist Dmitry Guberniev urged not to pay attention to the statements of aggressive biathletes.
"In Russia there is a saying: let the loser cry. There is nothing to do with Samuelsson and Fourcade. They look up at Sasha and cry from the fact that he beat them so much. The close position of Johaness Beau according to Loginov is close to me. He correctly noted: what's the point of saying, if Sasha won, now we have to beat him, "said Guberniev in an interview with RT.
The journalist also stressed that winning the sprint will not put pressure on Alexander in the pursuit.
"On the contrary, she will put pressure on his rivals. Just as Spielberg is under pressure from our films Crimean Bridge and Legend-17. When we make a high-quality product, when our athletes win beautiful victories - foreign partners start thinking: what to do next? But this is not our problem, "Guberniev wrote in his Instagram.