PvdA seems to be the biggest party, follow the reactions here
2019-05-23T19:15:12.117Z
The Netherlands was the first EU country on Thursday to open polling stations for the European Parliament elections. Voting is also taking place in the United Kingdom on Thursday. The elections last until Sunday. Follow all developments in this live blog.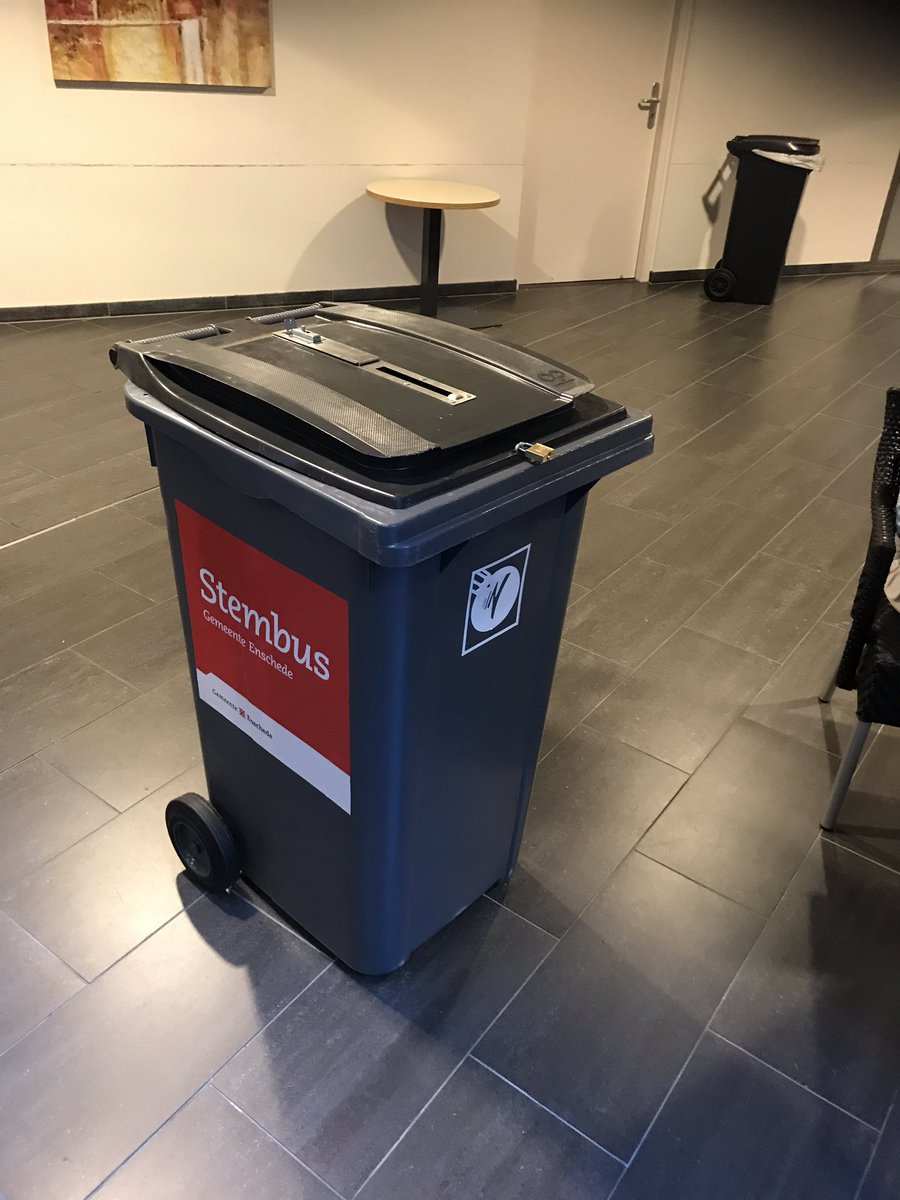 ---
The Netherlands was the first EU country on Thursday to open polling stations for the European Parliament elections. Voting is also taking place in the United Kingdom on Thursday. The elections last until Sunday. Follow all developments in this live blog.
Hello, Thomas Moerman here. I take over from Matthijs. I will keep you informed of the European elections tonight. Around 400 million Europeans can vote in the coming days. It is the turn of the Netherlands and the United Kingdom today, but most countries only vote on Sundays.

Ask? Leave them via NUjij, mail to thomas@nu.nl or tweet to @thomasmoerman.
one minute ago
The real result will follow on Sunday, together with the results from the other EU countries.
2 minutes ago
Jesse Klaver, Lower House party leader of GroenLinks: "Won again, but they are just exit polls. There is also profit for Frans Timmermans, I congratulate him wholeheartedly. What this shows is that left-wing progressive politics are winning from the right. Negativism of VVD delivers 1 seat. Forum gets 3 seats. PvdA and GL are doing better together. Really happy with it. "
4 minutes ago
VVD party leader Asmani: "Nice result, we have a profit. That was what I was interested in. Great to see. The Labor Party is exceptionally good." He is also pleased that with this outcome the Netherlands shows that it is a pro-European country.
5 minutes ago
When it comes to seat profit, Forum is the big winner, but this exit poll will feel like a profit for the PvdA in particular. Big losers are PVV and D66.
7 minutes ago
Converted to seats, according to NOS the number of seats (margin of error of a seat):


PvdA: 5 (+2)
VVD: 4 + (+ 1)
CDA: 4 (-1)
FvD: 3 (+3)
GL: 3 (+1)
D66: 2 (-2)
CU / SGP: 2
PVV: 1 (-3)
SP: 1 (-1)
PvdD: 0 (-1)
11 minutes ago
The provisional exit poll from IPSOS, commissioned by the NOS: PvdA is the largest party, followed by the VVD and CDA. Forum ends fourth.
14 minutes ago
The turnout figures are also interesting. These have been fairly low in the Netherlands and throughout the EU in recent decades. If the turnout is higher than 39.26 percent, those are the highest turnout figures in 20 years.

Dutch attendance figures:
1979: 58.12%
1984: 50.88%
1989: 47.48%
1994: 35.69%
1999: 30.02%
2004: 39.26%
2009: 36.75%
19 minutes ago
The ballot boxes are still open for 4 minutes and 55 seconds. That is exactly as long as the number the Final Countdown, from the band Europe.
26 minutes ago
The PvdA benefits from the reputation of Frans Timmermans, their Spitzenkandidat. According to opinion poller Maurice de Hond, Timmermans has pulled a lot of voters away from other parties. For example, 19% of voters who still voted GroenLinks at the municipal elections in March were in favor of the PvdA, 14% of D66, 12% of SPs and 11% of 50PLUS. De Hond interviewed 7,000 voters. (ANP)
an hour ago
Pieter Omtzigt has a problem with the appearance of the ballot boxes / voting bins.
One more wish for the elections in the Netherlands: Ballot boxes that do not look like waste containers
Avatar
Author Pieter Omtzigt Moment of Places 19: 34 - 23 May 2019
an hour ago
According to the NOS , the turnout at around 19.30 was around 34 percent. That is slightly higher than five years ago at that time.
an hour ago
Still not out? At the last moment:
2 hours ago
Small reminder: voting is not only taking place in the Netherlands today. People in the UK also go to the polls. You can call the fact that the elections in the United Kingdom take place a bit crazy. Originally it was planned that the British had already left the EU for two months.

We do not get Exitpolls from the UK. For results we have to wait until Sunday, when we also know the rest of the results from Europe.
2 hours ago
Our partner Nieuwscheckers checks allegations in the run-up to the European elections. This time a statement by Frans Timmermans is being checked: "Because the Polish economy is growing and wages are becoming less and less different from those in Western Europe, more and more Polish workers are staying in Poland."
2 hours ago
Question by NUjijer Sammie33: Will these elections make it clear in the UK what 'the people' want with regard to the Brexit? It seems plausible that a signal will be sent there. Maybe that gives a nice indication of whether a new referendum would be useful.

Answer:
You might call it a signal, but all British parties emphasize that these elections are not a referendum. Of course, the outcome of the elections does not change the process at all - only a majority in the British House of Commons can do that.
3 hours ago
We have turnout numbers again! Around 6 pm, 21.7% of voters visited a polling station. In 2014 this was 19.8%. You can still vote until 9 p.m. tonight 🖍️➡️ https://t.co/0T9uZ5XMyq #european election # EP2019 # EU election2019
Avatar
AuthorCity of AmsterdamMoment of places17: 50 - May 23, 2019
3 hours ago
You can also vote for a train station. Whether people do that too, seems to depend on the city. It is quiet at Utrecht Central and Rotterdam Central, but busy at The Hague Central, ANP reports. You can still vote until 9 p.m.
3 hours ago
The turnout is about the same as five years ago, according to an analysis by research agency Ipsos about which the NOS reports. 24 percent of all voters have now voted.
3 hours ago
Statement by the UK Election Committee on complaints from EU citizens who cannot vote.
We're aware that some EU citizens, resident in the UK, have been unable to vote today and understand the frustration this has caused. Here's our statement: https://t.co/jziu14L9Nf
Avatar
AuthorElectoral CommissionMoment of places15: 56 - 23 May 2019
4 hours ago
PvdA member Frans Timmermans voted for himself. He said to Politico :
" I've voted for the first time ever, for myself. I've never done so before. Most of the time, I'll go for the first woman on the list. But today, for some reason or other, I just spontaneously put a cross next to my own name. "
"I voted for myself for the first time. I have never done this before. Usually I go for the first woman on the list. But today, for some reason, I spontaneously put a cross next to my own name . ")
4 hours ago
A list of attendance rates at 5 p.m.

Amersfoort: 25.2 percent
The Hague: 23.1 percent
Eindhoven: 21.8 percent
Groningen: 26.7 percent
Purmerend: 20.4 percent
Rotterdam: 19.8 percent
Utrecht: 26.0 percent
4 hours ago
Some voters seem to have difficulty separating the major European events.
So! My douze points have just gone to @Tineke_Strik @groenlinks, hoping that she can organize the EU for the next 5 years. Have you already voted? # ESF2019 o no # EP2019
Avatar
AuthorDr.
Sterre Leufkens Time of places 16: 55 - 23 May 2019
4 hours ago
In Meppel, the turnout for these elections in 2014 is now somewhat outdated.
Last stand of the turnout for the European elections in #Meppel 21.57% now and 18.28% last time. Polling stations are open until 9 p.m. So go vote!
Avatar
Author Richard Korteland Time of places 16: 31 - 23 May 2019
4 hours ago
On Thursday afternoon around 4 p.m., 19 percent of Dutch people entitled to vote voted, research agency Ipsos reported to NRC . This provisional turnout is the same as that of the 2014 European elections at the same time.

Earlier, the figures seemed to indicate a somewhat lower turnout than that in 2014.
5 hours ago
French party leader Marine Le Pen has to pay back 3 tons to the European Parliament
Marine Le Pen, leader of the French party Rassemblement National (RN), must definitively pay back 298,497 euros to the European Parliament.
The Court of Justice of the European Union has rejected its appeal, reports the French newspaper Le Monde .
Between 2010 and 2016, Le Pen wrongly paid an employee of her party, Catherine Griset, with EU money.
Griset is currently number ten on the RN list for the European elections.
5 hours ago
The Belgian MEP and Brexit envoy Guy Verhofstadt calls the British decision to leave the EU a "tragedy for Europe", but also signals a positive side.

"Since Brexit, people in most countries no longer want to leave their country. Nobody wants a Nexit, the Dutch out, or a Frexit, the French out. What we've seen since Brexit is that the idea of ​​Europe is more popular than ever "said Verhofstadt.

The Belgian liberal also said that he is confident that the liberal alliance in the EP (ALDE), of which and the Dutch VVD is a part, will form a strong centrist group together with La République of French President Emmanuel Macron.

That block would be given a lot of power if, for the first time since the first European elections in 1979, the Socialists and the Conservatives were unable to gain a majority and had to look for liberal support.
5 hours ago
D66 MP Sjoerd Sjoerdsma says in a Twitter message that he has written questions to the Minister of Foreign Affairs about the news that Dutch people would be banned from polling stations in the UK.
Unacceptable! Many people with a European passport now make voting impossible in the UK. Follow the stories live on # DeniedMyVote. That's why we asked written questions:
Avatar
AuthorSjoerd Wiemer SjoerdsmaMoment of places15: 03 - 23 May 2019
5 hours ago
Readers' question by Loes P .: My husband has two nationalities: Belgian and the Netherlands. He can vote in both countries. Can you explain this to me?

EU citizens living in other Member States are not allowed to vote twice, but the control is not always watertight. Parliamentary questions were asked about this during the previous two European elections. Not all Member States check whether a person has dual nationality.

For violating the Elections Act in the Netherlands there is a fine of 4,000 euros or a month in prison.
6 hours ago
British media, such as The Guardian , report that many EU citizens living in the UK are not allowed to vote because of administrative errors at various municipalities.

EU residents would be told that their names were crossed out on the electoral lists or were completely missing. The forms on which they had to indicate that they wanted to vote in the UK would have been processed too late or not.
I've been turned away from the polling station saying I'm not eligible to vote despite the fact I've got a polling card and have registered too. My local council @EastHantsDC failed to send the declaration form ... # EUelections2019 #DeniedMyVote
Avatar
Author Peter Baier Time of places 10: 04 - 23 May 2019
6 hours ago
Readers' question by Frans J .: Is there also a redundancy payment scheme for MPs from the UK, who are now elected to the European Parliament and are leaving again with a Brexit?

The European Parliament's redundancy pay scheme is as follows: for each year that a politician has been in parliament, he or she receives about a monthly salary allowance, up to a maximum of two years.

To be eligible for redundancy pay, a Member of the European Parliament must first have served at least one year. So if the UK does indeed leave on October 31 (or before), the new British MEPs elected today will not receive any waiting money. Parliamentarians who are re-elected do receive redundancy pay based on their years of service.
6 hours ago
At 3 p.m. the provisional turnout in Amersfoort at the elections to the European Parliament is 19.4% https://t.co/UTTSrAx27t # 033elect # EP2019 # European Elections
Avatar
AuthorCity of AmersfoortMoment of places15: 01 - 23 May 2019
6 hours ago
Rutte arrives by bike at his polling station in The Hague
6 hours ago
Most Dutch candidates in the European elections live in South Holland. That province supplies 72 of the 308 candidates. Noord-Holland is just behind it with 70 candidates. Together they have almost half of all Dutch candidates. Noord-Brabant supplies 31 candidates, Gelderland 30.

Drenthe has the least candidates. Only 3 potential MEPs come from that province. Ralph du Long (PvdA) and Jannie Drenthe (SP) are from Assen, CDA member Albert Jan Maat from Paterswolde. Overijssel and Friesland each deliver 8 candidates, Zeeland and Groningen 9. (ANP)
6 hours ago
Three groups are eligible for the Dutch seats in the European Parliament. These are Dutch people living in the Netherlands, Dutch people living abroad and citizens of other EU countries who live in the Netherlands. For example, a Spaniard from Amsterdam may be a candidate for a Dutch party.

When a Dutchman living outside the EU is elected, it is not necessary to relocate. They can continue to live in Beijing, Shanghai and New York, for example, and take a seat in the European Parliament. (ANP)
7 hours ago
For many people, the European Union is a far-from-my-bed show. What has the EU actually achieved in the last five years, and what not? Six examples.
7 hours ago
Special polling stations: The new terminal at Lelystad Airport has not yet been taken into use, but today it is already used as a voting location (photo: ANP).
7 hours ago
308 people are candidates for the Netherlands. They are in the race for 26 seats . This means that there are 11.8 candidates for each seat. If the British leave the European Union, the Netherlands will get three more seats. In that case there are 10.6 candidates per seat on Thursday.

ChristenUnie-SGP has the largest list of candidates. The two parties have a combined list with thirty candidates. The SP follows at a minimum distance with 29 candidate MEPs. 50PLUS nominates 27 people. Jezus Leeft has the smallest list of candidates, with only three people on it. (ANP)
7 hours ago
Special polling stations : we have already seen a real 'ballot box', but voters who prefer to fulfill their civic duty in slightly more chic atmospheres can also go to the Kurhaus in Scheveningen (photo: ProShots).
7 hours ago
Reader's comment from Jasper Metselaar of ZwedenWeb : On NU.nl you write that the Netherlands and Great Britain are the first countries where polling stations are open.
However, this is not entirely true, the polling stations in Sweden opened on 9 May. In Sweden it is customary that you can vote well before election day (förtidsrösta).

On the other hand, it is true that official election day is Sunday 26 May. That is also the day that the votes are counted. To this day, it is also possible to cast a new vote and the previously cast vote will be canceled.

Whose deed!
8 hours ago
"What is the turnout like?" "Bad ... Maybe it will come." There, you, who have not yet voted, will certainly take care of it, because the celebration of democracy!
Avatar
AuthorSannekeMoment of places12: 39 - 23 May 2019
8 hours ago
All residents are allowed to vote on the BES islands, but not on Curaçao, Aruba and St Maarten. There the Dutch could register well before the elections for a so-called letter vote, one vote by post. More than 300,000 people live together on these three islands. (ANP)
8 hours ago
In the previous elections to the European Parliament, a total of 1,610 people voted on the so-called BES islands. In total around 25,000 people live on the three islands. (ANP)
8 hours ago
The polling stations have now also been opened on Bonaire, Sint-Eustatius and Saba. Residents can vote from 7.30 a.m. to 9 p.m. local time. There are seven polling stations on Bonaire, one on St. Eustatius and one on Saba. (ANP)
8 hours ago
Turnout in Amsterdam higher than four years ago
One in ten people in Amsterdam voted for the European Parliament. Around 1 p.m. the turnout was 10.5 percent. That is slightly higher than in the previous European elections in 2014. At that time, 8.7 percent of the people of Amsterdam had cast a vote for that time. In the end, the turnout in Amsterdam was 35.7 percent.

In Rotterdam, 11.7 percent of those entitled to vote have so far voted. The turnout in The Hague is slightly higher, at 13.4 percent. 13 percent voted in Eindhoven and 14.7 percent in Groningen. (ANP)
8 hours ago
Dogs are not only involved in the voting process in the UK.
NU.nl user Ad van Loon shot a Dutch four-legged friend who assisted the owner.
8 hours ago
Volt party leader Reinier van Lanschot has also cast his vote.
8 hours ago
GroenLinks party leader Eickhout: "You can be for Europe, but still criticize European policy. In The Hague, we are not always happy with every law. If Europe really wants to show that it is there for us all, it must fight climate change much better, but also share it fairly. Ensure that the major polluters are going to pay and that companies are going to pay taxes. (ANP)
8 hours ago
The Brussels voting papers are en route to The Hague! Until today 12:00 Dutch people could hand in their voting envelope at the embassy. @NLatEU @EPinNL @MinBZ #EuropeanElections #European elections # votes
Avatar
AuthorNL Embassy BelgiumMoment of places12: 14 - 23 May 2019
8 hours ago
Europe votes: You need to know about the elections
Back up