Winter weather: Bavaria sends 500 additional policemen into snowy areas
In Bavaria, the heavy snowfall will continue in the next few days. There would be cause for "serious concern," said Prime Minister Markus Söder.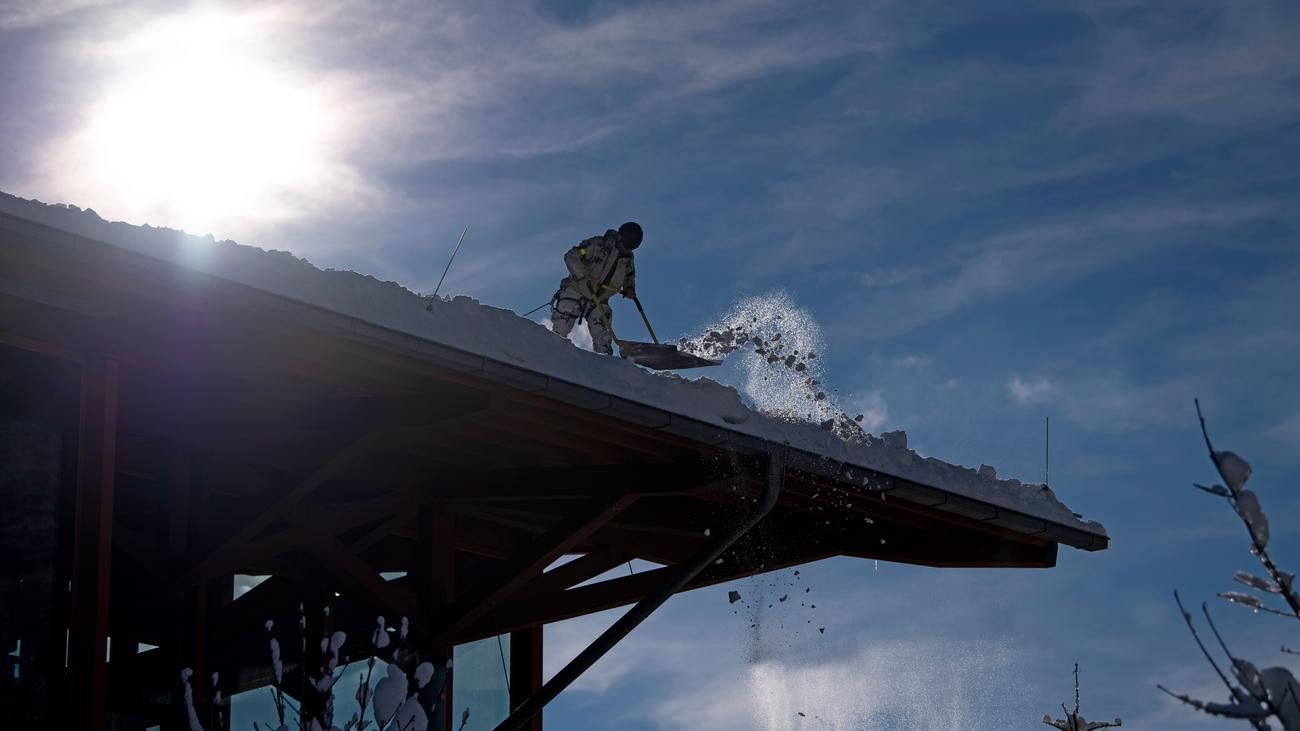 ---
Bayern sends 500 additional riot police into the areas affected by the snow chaos. "There is no reason to panic, but already to serious concern," said Prime Minister Markus Söder (CSU). On Saturday he took part in a briefing of the emergency services in Bad Tölz. All in all, according to Söder, 5,000 troops are deployed.
At the moment, they are mainly occupied with clearing snow-damaged rooftops. If necessary, further task forces should be set in motion. All were "full load in action," said Söder. "The biggest challenge of the next few days will be the roof load," said the Prime Minister. "The rain makes the load heavier overall." The forces were "very worried".

The German Weather Service (DWD) announced again heavy snowfall in Bavaria in the coming days. From Saturday evening to Tuesday 40 to 70 centimeters of fresh snow are expected in the Alps and partly in the southern Alpine foothills and in the Bavarian Forest. In stagnant conditions, fresh snow can be expected up to one meter. In addition, "partly considerable snowdrifts" can be expected.
Avalanche danger remains
The avalanche danger in the Berchtesgaden Alps has fallen according to experts, but remains significant. For Saturday the avalanche service Bavaria lowered the warning level from 4 to 3, the middle of five danger levels. Alert level 3 was already in place on Friday in the rest of the Bavarian Alps. The main danger stems from large or very large loose-snow and slab avalanches. Because of the weight of the fresh snow on the old snow they could solve themselves. Avalanches could go down into valley valleys and jeopardize pedestrian-friendly traffic and hiking trails.
On Friday, there were hundreds of traffic accidents in southern Bavaria due to the winter road conditions. At Munich and Frankfurt airports, around a hundred flights were canceled. Because of snowy tracks, the regional rail traffic in parts of Upper Bavaria, Swabia and Lower Bavaria is still set. According to a railway spokesman fall in the coming days, numerous trains.
Heavy snowfalls have caused considerable problems in southern Bavaria for days. Several districts called out the disaster. The Bundeswehr has sent 350 soldiers to the affected regions. They clear roofs of snow, supply inhabitants in hard-to-reach places and transport helpers with tracked vehicles. The Bavarian Red Cross (BRK) also has many helpers on site.
In Bulgaria two snowboarders died on Friday under an avalanche that they themselves had caused. In Austria, the Federal Army brought a group of students from the Ruhr area with two helicopters from a pasture.

Similar news: