EU Copyright: They are not bots
Thousands of people in Berlin and other German cities protested against the planned EU copyright reform on Saturday. What drives them?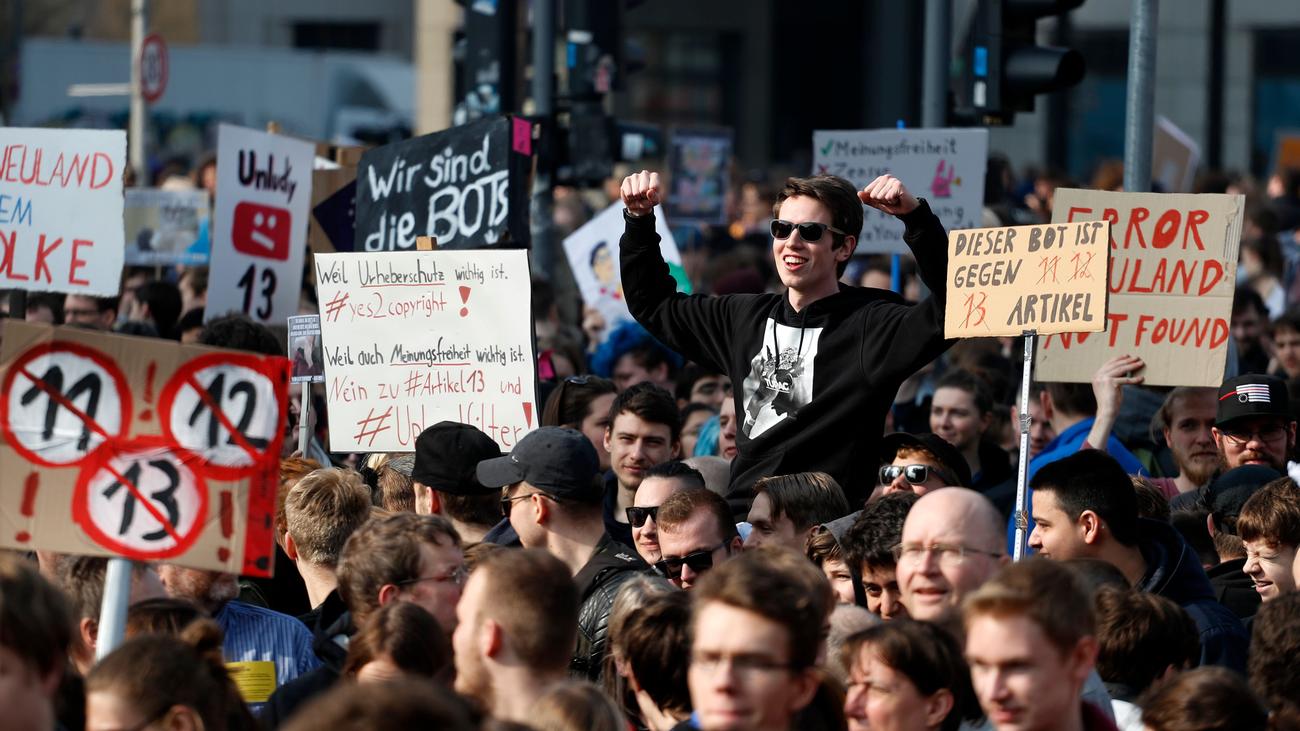 ---
Markus Reuter is standing on a small red truck at Potsdamer Platz. The plans are rolled up, with posters with inscriptions like "StopUploadfilter", "Fuck Google, Facebook, Amazon", "#NeverCDU" on the sides. Thousands of people are standing around the wagon, all of them on this sunny Saturday afternoon to protest against the planned EU copyright reform.

"We've already won, even if we lose on Tuesday!", Calls Reuter, co-founder of the Association Digital Society. "We have learned that we can change something: we can say no, and that no will be heard!" The audience is so big that what Reuter says is hard to understand in the back rows. But the message arrives. The people cheering, they blow into their whistles, they chant "We do not want Article 13" and "Never more CDU!".

According to the organizers, around 30,000 people gathered in Berlin, and the police spoke of more than 10,000. Also in other German city demonstrations on Saturday thousands, as well as in countries like Poland and the Czech Republic, the Netherlands, Austria and Sweden. The actions are the finale to a series of demos that have taken place almost weekly since mid-February. At that time, the Council, Commission and Parliament had agreed on the final text for the controversial EU copyright reform. Next week, the European Parliament will vote: if the current text comes through, the directive will come into force. This Saturday is the last chance to face it again, to set a sign again.
Copyright - tens of thousands protest against Article 13 People across Germany have demonstrated against the planned copyright reform of the EU. They warn against possible upload filters on platforms like Youtube. © Photo: Christoph Soeder / dpa
"We were not taken seriously"
Many people in Berlin and other cities want to do just that. While the demo moves from Potsdamer Platz to the Brandenburg Gate, the organizers of the truck repeatedly loudly announce the number of protests from other cities: "15,000 in Cologne!" "5,000 in Frankfurt!" "10,000 in Hamburg!" "40,000 in Munich!" "2,000 in Kiel!" "9,000 in Leipzig!" The police estimate the demonstrations partly smaller, but that does not matter here. "We are many, we are loud, because you steal our freedom," chant the protesters.

The demonstrators are especially concerned about Article 13 of the reform, which is now called Article 17 in its final version. If someone illegally uploads copyrighted material on a platform such as YouTube, the portals should be liable for it in the future. They would therefore have to prevent infringements before they happened - "in line with industry-standard standards," as the directive states.

Critics fear that this would result in upload filters. Technologies that automatically evaluate and unlock content. However, such systems are prone to error, they can not distinguish between a user video, a satire broadcast, or reporting. In the worst case, so the fear of the reform opponents, the opinion and art freedom would be limited.
"Providers such as large publishers, film distributors, record labels or professional creators will have more resources available to ensure that their content will escape the filters," says Tobias Matzner, professor of media science at the University of Paderborn. For laymen, however, this could be more difficult. This creates a new kind of power, based on economic decisions rather than on social values ​​such as democracy, freedom of expression and information: whoever has money will be able to spread his message more easily.
It is exactly this concern that people describe at the demonstration in Berlin. "Article 13 restricts freedom of expression," says Luca, 14, schoolgirl. She demonstrates together with her friend Marlene. 20-year-old Max, product manager at a start-up, sees the article as a first step towards further filter mechanics. Christian, fifty-three years old, fears a "monopoly of opinion", meaning that the big platforms are given sovereignty over what people are allowed to post and what they do not. Tabea demonstrates to be heard by the politicians: "We have raised a concern, but were not taken seriously," says the 21-year-old biology student.