Formula 1 is going to miss Charlie Whiting enormously
His death came suddenly, his status within Formula 1 was undisputed. Charlie Whiting (66) was very popular within the drivers' guild. "He was a driver man".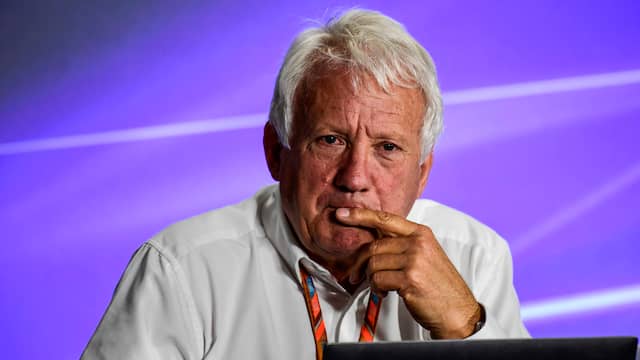 ---
His death came suddenly, his status within Formula 1 was undisputed. Charlie Whiting (66) was very popular within the drivers' guild. "He was a driver man".
"I saw Charlie on the circuit with Sebastian Vettel on Wednesday, but I didn't want to bother them, because I thought" I'll talk to him tomorrow, "said Robert Kubica on Thursday at the Albert Park circuit in Melbourne. "Very strange that he is no longer here."
The first Formula 1 press conference of 2019 had a different atmosphere than usual at a seasonal start. Whiting suddenly died on Thursday from a pulmonary embolism.
The Englishman, who had worked in Formula 1 since 1977, had traveled to Australia like the entire F1 circus to usher in a new year in the royal class. His death leaves a black mark on the Grand Prix in Melbourne.
"I've known Charlie since my debut in 2007," commented five-time world champion Lewis Hamilton, "I'm really shocked, this is sad news. With his dedication, Charlie was really a pillar and an icon in motorsport, which has contributed so much." , the Brit praised his countryman.
Charlie Whiting. (Photo: ANP)
Race leader knew Formula 1 teams' deepest secrets
As a race leader, Whiting was the point of contact for drivers during the race, but also ensured that all rules were observed outside the track. Various Formula 1 teams regularly drew on the services of the former techie, because he knew their deepest technical secrets from all the formations. Whiting had this role since 1997.
"Charlie was a racer above all," said Sebastian Vettel. The Ferrari driver still had a chat with the race leader on Wednesday, who maintained a warm bond with all drivers. "He was right in the middle of us drivers."
Max Verstappen confirmed that image during the press conference. "We recently spent a whole day together in Geneva. Then I said: I'll see you again in Australia. Incredibly he is no longer here. And he was only 66."
Riders during the press conference in Australia. (Photo: ProShots)
Whiting didn't care
Whiting was also regularly cursed on Whiting during the races, for example by Vettel during the 2017 Mexican Grand Prix.
"I have a message for Charlie, f * ck off, " Vettel roared over the radio. The incident was later closed with apologies from the German. Calling for an intervention by 'Charlie' over the on-board radio was a concept in Formula 1.
"We certainly didn't make it easy for him," said Daniel Ricciardo. "But he was there for us and made him feel that we were on our side. We complained a lot, but he didn't care. Charlie was ultimately someone who, like us, had a lot of passion for the sport."
"I also remember how I had to introduce myself to him when I entered the sport," Renault's Australian looked back. "Actually, I only have beautiful memories."
"He had a deep understanding of how drivers felt on the track," added Ferrari talent Charles Leclerc. "He always looked at everything carefully and always tried to be honest. No one saw his death coming. Really a big loss for the sport," concluded the Monegask.
See also: Formula 1 competition leader Charlie Whiting (66) passed away
Similar news: