Fenerbahçe chairman Ali Koç has, in his own words, discovered a bizarre plot against Phillip Cocu. Three assistant coaches of the Dutch coach, who are now fired, would have consciously opposed the Dutchman so that he would be fired.
That is what Koç said in an hour and a half interview that was broadcast on the channel of the Turkish club on Wednesday.
The assistants Turgay Altay, Murat Öztürk and Alper Asci rebelled according to the Fenerbahçe preses after Erwin Koeman took over a number of tasks from them. "Then the three trainers decided not to help Cocu anymore," said Koç according to VI .
"They leaked information about players, matches and training sessions to a third party, which included all the video footage, and all the information and statistics from last season have been secretly deleted."
The assistants would also have deliberately withheld information from Cocu, who is on the disappointing fifteenth place in the Turkish Süper Lig with Fenerbahçe. "Many players complained about fatigue," continued Koç.
"This was because the fitness trainers did not pass on information about condition complaints to the trainer, there was so much training that serious injuries could have arisen, and players complained about that, but that was not passed on to Cocu."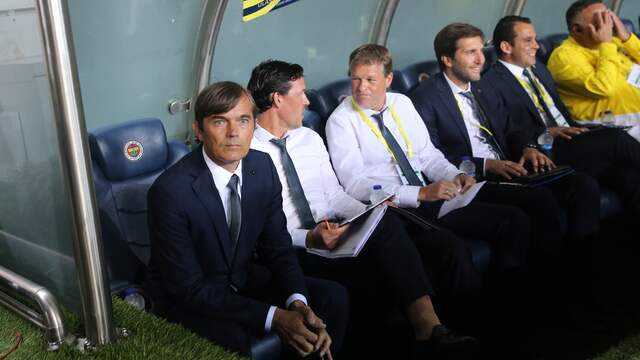 'Assistants wanted to return Cocu in dress'
The drop that spilled the bucket was an incident for Koç before the always loaded derby against fellow city Besiktas. "Before that match there was suddenly a dress in the locker room," the chairman said.
"The three trainers later said to the players that they would roll up Cocu after the game in that carpet, to send him back to the Netherlands, once again against Spartak Trnava, when that story came to me, I immediately fired them. . "
Fenerbahçe had a bad start to the season
Cocu has been a trainer at 'Fener' since last summer, which took over the former international from the Dutch squad from PSV. Under his leadership, the Turkish superpower experienced a bad seasonal start. The club from Istanbul ended in the preliminaries of the Champions League and only won two of the first eight league matches.
The position of Cocu has been under pressure for some time now. Last week he made a much-needed victory in the Europa League (2-0 vs. Spartak Trnava), but a day later he felt compelled by Volkan Demirel, Nabil Dirar and Aatif Chahechouhe to take three players out of the squad for misconduct.
Koç still has full confidence in Cocu. "We have taken a certain course and we keep following it." Phillip Cocu remains 100% sure our trainer and we leave all the trouble behind. "
View the results, the program and the position in the Süper Lig
By: NU.nl 10 reactions