In Germany, the extreme right wears the uniform of "yellow vests"
Saturday, three organizations, including Pegida, mobilized in Berlin against immigration by asking their supporters to wear "Westen gelbe".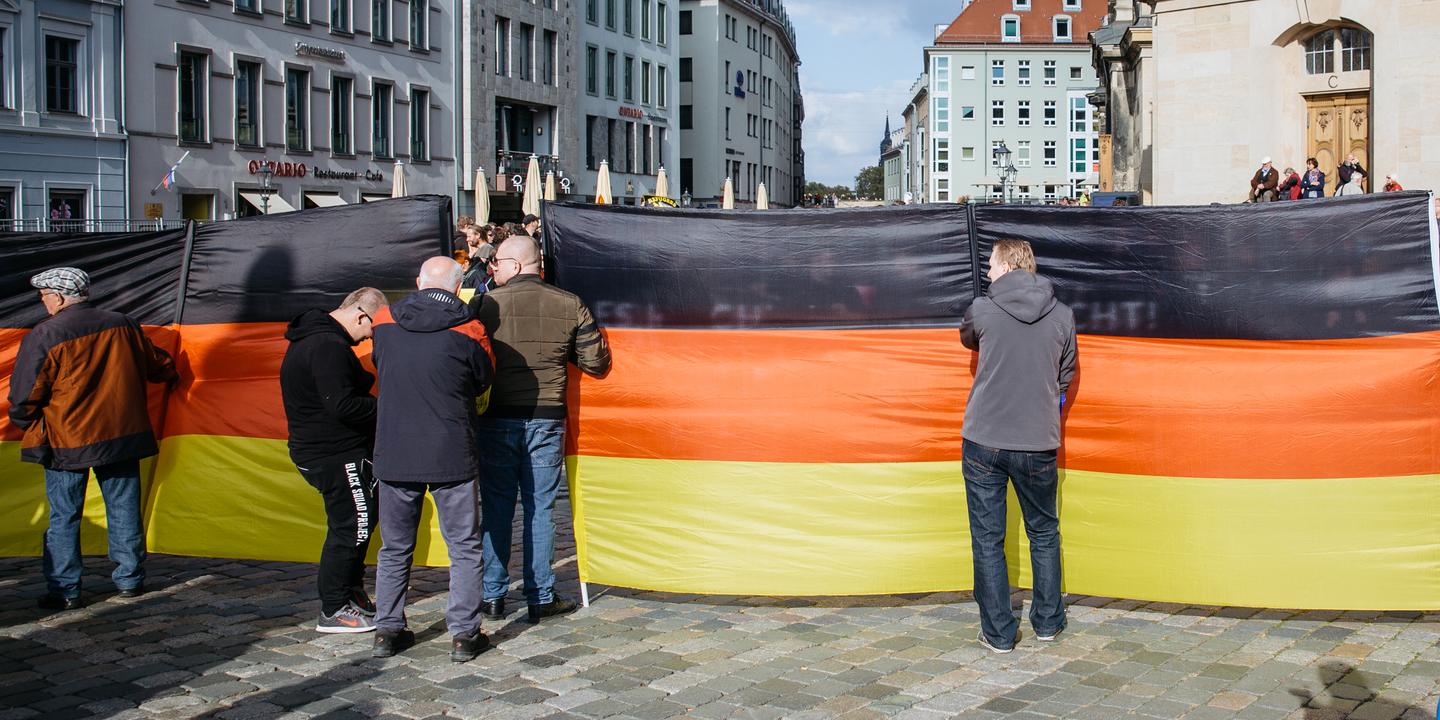 ---
Subscribers article
With the yellow vest, the German far right found a new uniform. For the first time, three of its organizations called for a "yellow jackets gathering" on Saturday, 1 December, at the Brandenburg Gate in Berlin. Pegida, a movement "against the Islamization of the West" , created in Dresden (Saxony), in 2014, Zukunft Heimat (Future Homeland), an anti-immigration group in eastern Brandenburg, near the Polish border and Merkel-muss-weg-Mittwoch, a group of opponents of the German chancellor who meets every Wednesday in front of his office to demand his departure, have gathered about a thousand people.
Article reserved for our subscribers Read also The political world stunned in the face of an unprecedented crisis
The pretext for the rally was the denunciation of the UN Covenant "for safe, orderly and regular migration" , which had been approved the day before by the Bundestag and is due to be adopted on 10 and 11 December in Marrakech. Why put on yellow vests to defend such a cause? "Our fight meets that of the French" yellow vests ". Here we want to get rid of Merkel. In France, they want Macron to resign, but basically, our goal is the same: to restore power to the European peoples, to put an end to these inconsistent policies that give all rights to foreigners while ethnic Europeans are treated like second-class citizens, " says a man from Dresden who, in his hand, holds a flyer titled" Enough "and decorated with yellow vests. Above, a long list of complaints: "taxes and the cost of living are steadily increasing" , "the middle class loses more than the others" ; "Older people are threatened by poverty" ; "Mass immigration does not end" ; "Politicians increasingly rotten" ; "The false press more and more cynical" ...
A "justified" fight
Even though the far-right Alternative for Germany (AfD) party was not officially co-organizer of Saturday's rally, some of its leaders had made the move. Four days earlier, Princess Doris von Sayn-Wittgenstein, patron of the AfD in the Land of Schleswig-Holstein, posted on social media a photo of her in a lace-collar blouse and yellow vest, with this slogan : "Solidarity with French citizens".
Similar news: