Fines increased: Cities fight rubbish: 250 euros for spit chewing gum
2019-04-21T10:42:39.103Z
TIME ONLINE | News, backgrounds and debates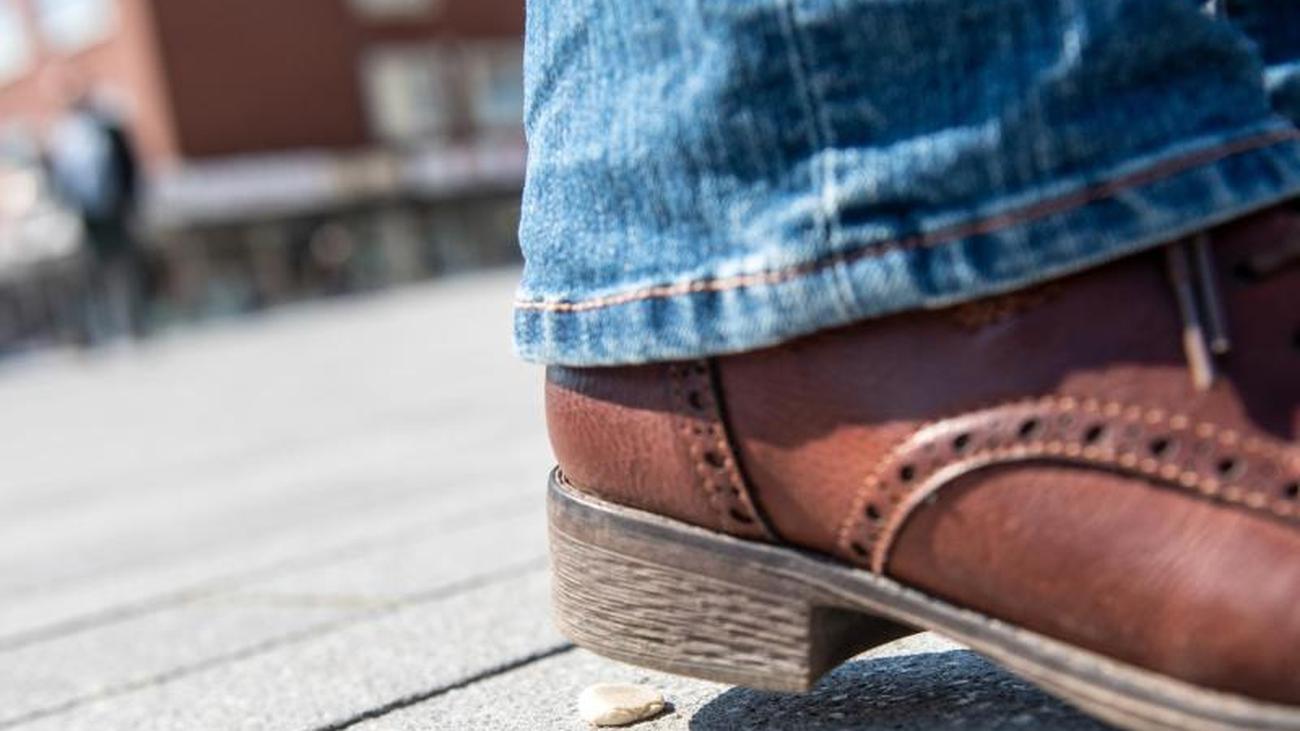 ---
Hannover / Mannheim (dpa) - Higher fines, more controls, larger waste bins, new reusable systems: With various strategies, many German cities have recently tightened the fight against garbage on the roads.
In some municipalities of Baden-Wuerttemberg, for example, it will be much more expensive in the future to spit the gum on the ground, to throw away the cigarette butt, or simply to leave the dog feces behind. A new fine catalog of the country now provides for such environmental sins a framework of up to 250 euros. So far, such offenses had been prosecuted only 10 to 20 euros.
Mannheim has increased the fines in early April to reopen a newly renovated shopping mall. Anyone who throws away a fag in the city in the future, now threatens 75 euros penalty, the disposal of a chewing gum can even cost up to 250 euros. For not rescued dog excrement, the municipality imposed 100 to 250 euros fine.
The Bavarian city of Augsburg has last increased in June 2018. Since then, she asks everyone who throws garbage on the floor and is caught doing it, with at least 40 euros to checkout. That has shown effect. The situation is better - on streets and squares there is less waste around than before the increase.
"Apart from penalties, cities generally oppose the littering and damming of public spaces with other instruments," reports Deputy General Manager of the German Association of Cities, Verena Göppert. "These include, for example, action days for the common tidying up of public spaces and clean-up campaigns." But it must also be clear: "Anyone who deliberately pollutes public areas must also be in charge."
Stuttgart also wants to be cleaner. Because dirt is often not only a problem of aesthetics, says city spokesman Martin Thronberens - but often also for nature. "During smoking, numerous toxic substances accumulate in the filter. If tilting ends up in nature, these substances are washed out by rain and get into the groundwater. "In addition, improperly disposed chewing gum would often be eaten by small animals and birds that might die from it.
In Stuttgart, therefore, not only the fines rise - for example, for the disposal of tipping or chewing gum to around 100 €. The "Clean Stuttgart" campaign was also launched - among other things with larger waste bins. In addition, the municipality has created new jobs in the city enforcement service to catch more garbage sinners in the act - for the first time civil strips are on the way.
Because many German municipalities are facing a common problem: to catch the environmental frigates, even though the staff is thin. "The throwing away and leaving of garbage is hardly controlled," explains the spokeswoman for the city of Lüneburg, Ann-Kristin Jenckel. There are too few sales representatives for this. Their priority is therefore on other fines within the city.
In Hanover careless spitting out of a gum currently costs a moderate 10 euros. In the future it should be more expensive. "This is expressly demanded by politicians," says Zweckverband Abfallwirtschaft Region Hannover. The city of 530,000 inhabitants also has to contend with the estimated 20 million disposable cups for to-go drinks that are consumed annually.
"This would cover the more than 6000 square meter Rathausvorplatz one meter high with disposable cups," says federation spokeswoman Helene Herich. "An enormous waste of valuable resources and thus a significant environmental sin." Therefore, the city cleaning together with municipal departments in the spring of 2017 decided to establish their own reusable cup system on pledge basis in Hannover, as it is in several other German cities under construction.
Meanwhile, the Saxon city of Dresden hardness. There, the number of fines imposed for carelessly thrown away garbage has increased rapidly in recent years. In the previous year there were, according to the Ordnungsamt 1439 procedures for waste deposits such as chewing gum or paper cups. In total, fines totaling approximately € 33,000 were imposed. In 2017 there were about 960 procedures, in 2016 still 770th In Dresden, someone who spits his gum on the floor, with a Verwarngeld of 20 € expected, reported the Public Order. In individual cases, however, this could also be higher. Repentance should encourage all citizens to respect the set order.
But who spits the most? A study on so-called littering - the careless throwing away of garbage - revealed that the main offenders are young adults between 18 and 30 years old. However, littering also involves throwing away coffee mugs and cigarette butts. The study, to which the Ministry of the Environment refers, was issued last year by the Association of Municipal Enterprises (VKU). The results are based on a long-term study from 2005 to 2017. The reasons for littering were laziness and lack of education.