Concerns for Emirati princess Latifa, missing after trying to flee her "golden prison"
The February 2018 escape of Sheikha Latifa, daughter of the Emir of Dubai, Mohammed Ben Rashed al-Maktoum, lasted only a few days. NGOs demand his release.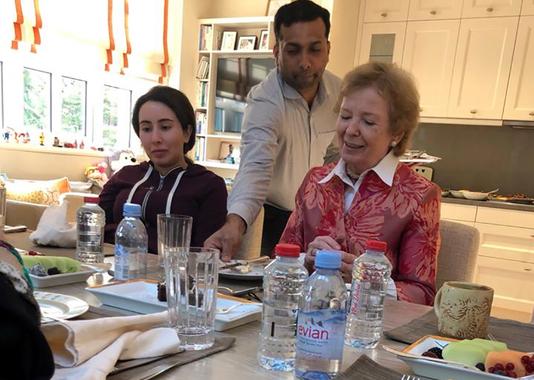 ---
The story of Princess Latifa is reminiscent of Rahaf Mohammed Al-Qunun.
In early January, the 18-year-old Saudi woman managed to leave her country, fleeing psychological and physical violence from her family.
Arrested in Thailand, she alerted the public and was eventually welcomed to Canada.
Except that the flight of Princess Latifa, daughter of the Emir of Dubai Mohammed Ben Rached Al-Maktoum, in February 2018, lasted only a few days, before it was intercepted in the open sea and brought back to Dubai as the New York Times reported on Sunday, February 10 . She has not been seen since, except on pictures broadcast by her family. A video, recorded before it was leaked and then broadcast on YouTube, has been viewed more than 2.6 million times, drawing attention to its plight and the situation of women's rights in the country.
"They will not bring me back alive"
In this thirty-nine-minute video, published on March 11, 33-year-old Princess Latifa recounts her escape plans and says she was kidnapped in Dubai by her father, Emir of Dubai and UAE Prime Minister United Arab Emirates. "There is no justice here, " she says. Especially if you are a woman. [...] I do not know what I will feel when I get up in the morning and think that I can do what I want with my day. It will be such a new and different feeling. It will be incredible. "
She explains that she recorded this video in case her escape from her "golden prison" failed: "They will not bring me back to life. It's not going to happen. If I do not survive, at least there will be this video. "
Already in December, the BBC had devoted a documentary to the "mystery of the missing princess" , in which the channel told how it had prepared for seven years its escape. In 2011, Cheikha Latifa contacted a Franco-American, Hervé Jaubert, after having read how he managed to escape from Dubai after having run into trouble with the authorities of the kingdom. Three years later, she meets Tiina Jauhiainen, an expert in capoeira, who becomes her confidante. For years, they come up with a plan to escape the surveillance of the princess's escort.
On February 24, 2018, Latifa and her friend manage to leave the United Arab Emirates for the Sultanate of Oman, from where they reach international waters by boat and Jet-Ski. They join Hervé Jaubert on his yacht, hoping to reach the United States. But on March 4, the boat is boarded by the Indian Navy off the coast of India, and the princess is brought back to Dubai. The crew is imprisoned for a few days, as Hervé Jaubert told the Daily Mail .
Three years in solitary confinement
This attempt at escape was the second of Sheikha Latifa. At 16, she had already tried to flee before being stopped at the border. She says she was then locked in solitary confinement for three years, beaten and tortured, the Guardian reports. In 2000, her older sister, Shamsa, also tried to take off in Surrey, southern England, before being captured in the streets of Cambridge and handed over to her family. She too had disappeared from the radar.
The fate of Princess Latifa is first relayed by Detained in Dubai, a private group established in the United Kingdom, which claims to help victims of injustice in the United Arab Emirates. On April 17, a source close to the Dubai government says that the fate of the princess is a "private affair" that has been "exploited" by a "gang of crooks" and by Qatar, the main rival of the Emirates in the Gulf . Both countries broke off diplomatic relations in June 2017.
In May, after months without news from Latifa, Human Rights Watch (HRW) calls on Dubai authorities to "allow [the Princess] to establish contact with the outside world" And clarify its "legal status" . "If she is detained, she must get the rights that all detainees have, including the right to be brought before an independent judge , " says Sarah Leah Whitson, HRW Director for the Middle East.
Read also: The fate of Matthew Hedges, British convicted of espionage in the UAE, becomes a diplomatic affair
Photos with Mary Robinson
In December, the UAE publishes a series of photos of the Princess taken during a meeting with Mary Robinson, the former Irish President and UN Commissioner for Human Rights between 1997 and 2002 Mary Robinson explains to the BBC that Princess Latifa is "a disturbed young woman, affected by a serious health problem and followed in psychiatry", who enjoys "loving care" .
Words that are hard to convince. For Kenneth Roth, the director of HRW, the description of a "disturbed young woman" and "vulnerable" is not enough to explain her situation: "Was she like that before trying to flee her gilded prison, or only after the Emirates brought her back by force? He wondered on Twitter. "Mrs. Robinson's statements did not answer anything; they are basically proof of life, which is good, but do not respond to the concerns of the UN, Human Rights Watch, Detained in Dubai and others, " says Detained in Dubai director Radha Stirling .
If Dubai Princess Latifa is a "vulnerable," "troubled young woman," was she like that before attempting to escape ... https://t.co/MsGtfJcjwL
- KenRoth (@Kenneth Roth)
"Saudi women fleeing their country are attracting attention, but the situation of Emirati women and women from other Gulf countries is no better," HRW's Guardian Adam Coogle told Reuters. The British daily reported Monday the case of Hind Mohammed Al-Bolooki, an emirate who managed to flee Dubai, incarcerated in the Republic of Macedonia, where his asylum application was denied, who fears being sent back to his country . According to the Guardian , she claims to have escaped because she was locked up by members of her family after filing for divorce.
Hind Mohammed Alblooki i run away from Dubai only to safe my life, i was forced to leave 4 child of mine i didnt ha ... https://t.co/rhCmSpRE2M
- HAlbolooki (@Hind Albolooki)
Read also: In the UAE, ten years in prison for the opponent Ahmed Mansoor