China seeks to impose new world information order, worries RSF
On the occasion of the tour of Chinese number one, Xi Jinping, in Italy and France, Reporters Without Borders publishes a report on Beijing's international media ambitions.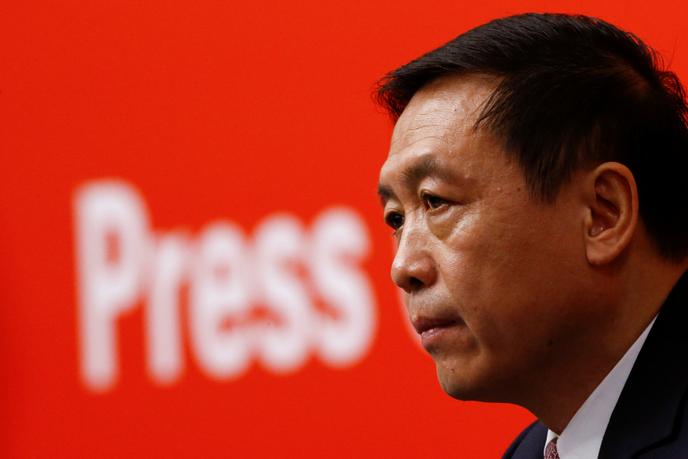 ---
Subscribers article
Zhang Hongsen, Chinese Vice Minister of National Administration of Press, Publishing, Radio, Film and Television, Beijing, October 2017. Thomas Peter / REUTERS
China's Xi Jinping is expanding its influence through its "New Silk Roads" project. But, Reporters Without Borders (RSF) warns, beyond its economic and geopolitical ambitions, Beijing seeks to impose its authoritarian vision through its media, tightly controlled. But also thanks to the seduction of media or foreign journalists, if necessary, pressure and intimidation.
Article reserved for our subscribers Read also "New Silk Roads": Xi Jinping's Planetary Ambitions
In a report published in full visit of the Chinese number one in Europe - Mr. Xi began his tour by Italy, Thursday, March 21, before going to Monaco then in France, from 24 to 26 -, the organization not government-friendly "the new world information order according to China" . "Ten years ago, there was the question of improving the situation in China. But as an NGO that defends the freedom of the press and journalists, it is increasingly difficult for us to have an impact in the country. And today the question is: how do democracies protect themselves from Chinese media influence? Says Cédric Alviani, RSF representative for East Asia, based in Taipei.
Article reserved for our subscribers Read also In China, the new art of censorship
Since taking office in late 2012, Xi Jinping has increased censorship of the national media and increased control of the Internet and social networks, restricting the space of freedom that journalists could have built into the system. His regular visits to the state media - the official Xinhua news agency, CCTV television (named CGTN internationally) and the People's Daily , organ of the Chinese Communist Party (CCP) - show his concern. to lead the ideological struggle.
As for China, RSF refers to "the world's largest prison for journalists" , with more than 60 of them behind bars. In December, in its annual report, the Committee to Protect Journalists (CPJ) put the figure at 47, noting that in 2018 China, Egypt and Saudi Arabia were the countries that had the most imprisoned.
Willingness to "tell Chinese stories" abroad
Western journalism - seen by the authorities as a counter-power and a desire to impose universal values ​​and democracy - is considered a danger. In January, the Foreign Correspondents' Club in China (FCCC) expressed concern in its annual report about the deterioration of working conditions, in particular because of the increased surveillance in Xinjiang, in the north-west, where one million Ouigours, Turks and Muslims, would be arbitrarily interned in centers of indoctrination, which the power justifies in the name of the fight against "terrorism".