President Trump, Year II: White House Limited Liability
During the campaign, he had sworn that by sending him to Washington, voters would bring to power a man of action. Except that the void is now invasive.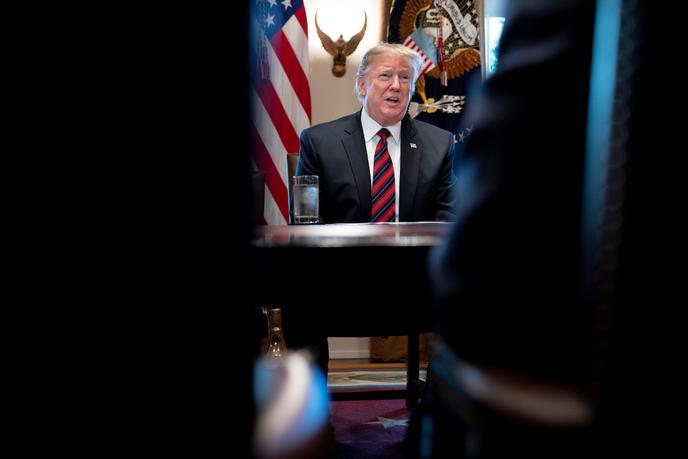 ---
Subscribers article
US President Donald Trump speaks at a meeting at the White House on border security on January 11. BRENDAN SMIALOWSKI / AFP
On Saturday, January 12, Donald Trump found it necessary to protest against a Washington Post article that portrayed the White House as chaotic. " Bitter [reporters] like to talk about chaos. There is none, in fact, there is hardly anyone in the White House, except me, "the president wrote on his Twitter account. Void is a form of order, but certainly not the most reassuring. And he is invasive.
During the presidential campaign, Donald Trump not only promised the construction of a "wall" on the border with Mexico, whose funding, rejected by the Democrats, is behind the longest shutdown of federal government in the history of the United States. He had sworn that by sending him to Washington, voters would be sure to bring a doer to power.
A man of action who arrives first in the office, even before the departure of the night watchman, shivering with excitement at the sight of the column of files that awaits him. And who does not leave home before having locked the pile, while voraciously contemplating that which is constituted next and will make its next day. A man of decision who assumes and keeps his word.
Article reserved for our subscribers Read also In West Virginia: "People can not stand long without money"
"Proud to close the government"
Except that not at all. According to the agenda of the past week released by the White House, the president had nothing before 12:30 Monday, nothing before 21 hours Tuesday, nothing before 11:30 Wednesday and nothing before 14:30 Friday. The day started exceptionally at dawn on Thursday at 9:15, but because Donald Trump was going to the border in Texas. One can imagine that his activities are not limited to official meetings but if presenteeism can be a sore, he spares at least the President of the United States.
Article reserved for our subscribers Read also Along the Rio Grande, the wall of discord
One of Donald Trump's distant predecessors, Harry Truman, had a sign on his desk saying that the discard that sometimes afflicts the bureaucrats stopped at the Resolute Desk. On December 11, receiving Congressional Democratic leaders, Donald Trump said he wanted to draw inspiration from it. " You want to know something? I will tell you: I am proud to close the government for border security , "he said. "It will be my business, I will block, I will not blame you for that, " he added. The male promise only lasted a few days. " Everyone is responsible, " assured the president this week, and especially the Democrats.
Similar news: