In Guatemala, thousands of protesters against the end of the UN anti-corruption mission
The government ended a UN mission on Monday, accused by the president of overstepping his office, but the court suspended the decision.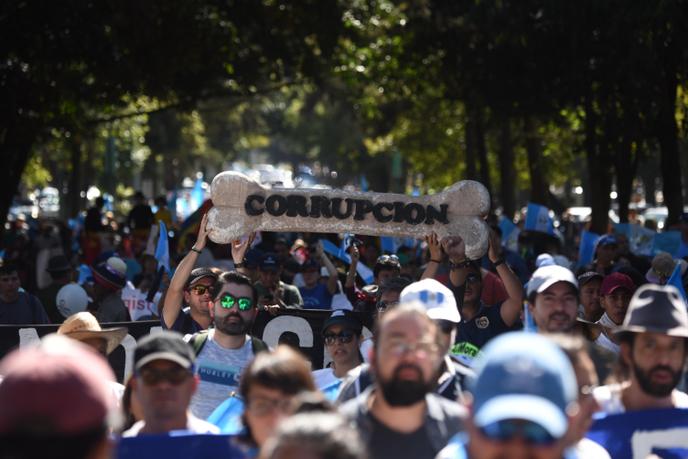 ---
Protesters brandish a giant dog biscuit that says "corruption" at a CICIG support demonstration in Guatemala City on January 12th. ORLANDO ESTRADA / AFP
Several thousand people demonstrated Saturday (January 12th) in Guatemala against President Jimmy Morales' attempt to end the mandate of a UN anti-corruption mission that is taking a close interest in the accounts of its 2015 election campaign.
"We reject the government of the corrupt," "We are against impunity," proclaimed placards held by protesters in Guatemala City, the capital.
"We reject the fallacious and illegal measures of Jimmy Morales (...) who tries again and again to end the fight against corruption," Álvaro Montenegro of Justicia Ya, one of the groups at the demonstration.
New events are expected Monday.
Suspension by the courts of the end of the mission
The Guatemalan government ended Monday the mission of the UN-backed International Commission against Impunity in Guatemala (Cicig), which was set up in 2007. But on Wednesday, the Constitutional Court - the highest court in the country Guatemala - suspended this unilateral decision.
Read also Guatemala orders deportation of UN anti-corruption commission
In its decision, the Constitutional Court urges the authorities to make every effort to facilitate the work of the UN mission.
The end of the UN mission, which Jimmy Morales accused of overstepping its functions, was initially scheduled for September 3, 2019, after the next presidential election.
Article reserved for our subscribers Read also In Guatemala, duel between President Jimmy Morales and "Ivan the terrible"
Tensions between President Morales and Cicig date back to 2016 when his brother and son were accused of tax evasion and money laundering. They rose a notch in the summer of 2017 when the UN mission and the prosecutor's office called for the lifting of the presidential immunity to investigate suspicions of illegal electoral financing during the 2015 campaign.
React or view all comments