France-Italy: the slow divorce
The support of Deputy Prime Minister Luigi Di Maio, political leader of the "5 stars", to the "yellow vests" intervenes after long months of tensions.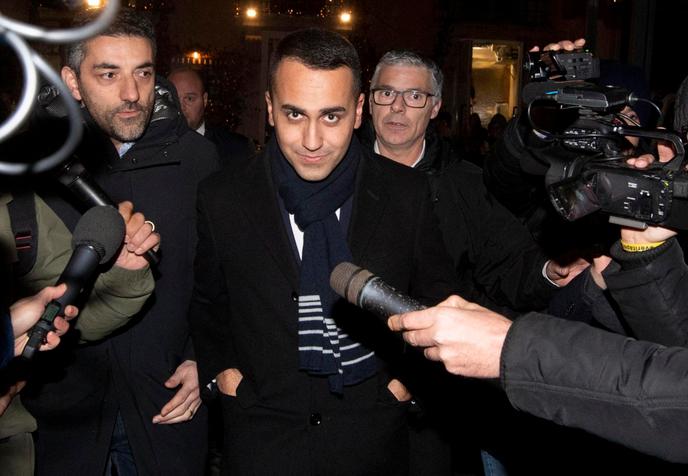 ---
Subscribers article
Deputy Prime Minister Luigi Di Maio, political leader of the 5-star Movement, on January 9 in Rome. Claudio Peri / AP
On January 11, 2018, in the courtyard of the Palais Chigi, nothing was too good to celebrate the friendship between France and Italy. The ceremonial uniforms were more impeccable than ever before, one spoke from one delegation to another, in Italian or French ... In the morning, Emmanuel Macron had gone to the Colosseum before offering himself a private visit Domus Aurea, being photographed in the ruins of the gigantic palace built by Nero. Despite the cold and the gloomy, so ill adapted to the Roman beauties, the message was clear, the Franco-Italian relation was in good shape. It was a year ago, day to day. In other words, an eternity.
The arrival of the new Italian government combining the extreme right and an antisystem party has cooled relations
What remains today of these demonstrations of friendship? Not much, to tell the truth, so much the relations between Paris and Rome experienced a spectacular degradation. Of course, this is due above all to the coming to power in Italy, in the spring of 2018, of an atypical government, formed of the alliance of the League (far right) and the 5-star movement (anti-system). But this cooling can not be explained without the accumulation, for years, of a series of unspoken and resentments.
In the past, Franco-Italian relations have always evolved at the rate of sudden and ephemeral upsurges. Who remembers that in March 2011 the French ambassador, Jean-Marc de La Sabliere, was summoned for explanations, during the offensive of the French Lactalis on the agro-food giant Parmalat?
The novelty is that this time, the quarrel seems sustainable. The negotiations for a Quirinal Treaty, which was to formalize the Franco-Italian relationship, like the Elysée Treaty concluded in 1963 between France and Germany, were one of the major themes of the visit of January 11, 2018; since the arrival of the Conte government, they have stopped.
As for the traditional annual summit, which was to be held in Italy, it did not take place in 2018. Even the commemoration of the 500 years of the death of Leonardo da Vinci, Italian genius died in Amboise during the reign of Francis I, do not escape this phenomenon. In November 2018, the Italian authorities announced that they would give up the loans of several works, which had been agreed for an exhibition to open in the Louvre in October.