Brexit: Thousands protest against British government
Yellow-vests now in London too: following the example of the French protest movement, thousands of Britishers have taken to the streets for new elections and an end to austerity.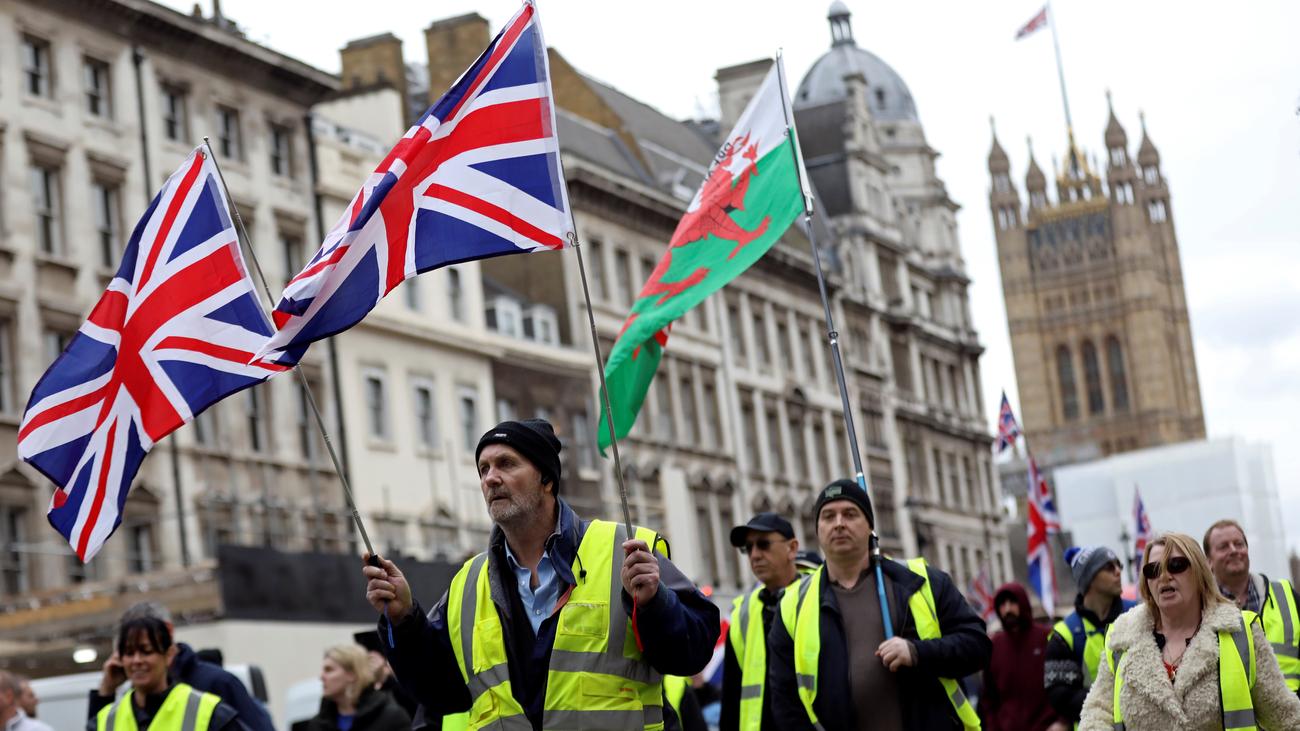 ---
Following the example of the French Yellow West movement, thousands of demonstrators have demonstrated in London against the British government. In the face of the impending Brexit, they called for an end to austerity and new elections. Politicians and trade unionists from across the country followed the call of the campaign "The People's Assembly Against Austerity". The organizers estimated the number of participants at 5,000 to 10,000.
According to the organizers, austerity and Brexit have divided the nation. "Since the Tories took power, the number of homeless people has doubled," said union campaigner and vice-president Steve Turner. The National Health Service NHS, the care sector and the schools were shaken by crises. "We are dealing here with a government that is completely alien to people's everyday concerns," Turner said.
About 200 people in yellow vests joined the protest movement in Belfast, Northern Ireland. Among other things, they demonstrated against the restrictive abortion law in the British part of the country. Yellow-West representatives from France participated in the demonstration in London. "All European countries should join this fight against austerity," said a participant from France the British news agency PA. The movement in France had formed in November to protest President Emmanuel Macron's policy of reform and the perceived lack of purchasing power. In England, the West had partly in addition the inscription: "Britain is broken".

Barley reiterates "no" to renegotiations
Great Britain wants to leave the European Union at the end of March. The UK Parliament will vote on Tuesday on the Brexit agreement that Prime Minister Theresa May has negotiated with the EU. It is considered very unlikely that the deal will come about. Chaos threatens in case of an EU exit without agreement.
British Transport Minister Chris Grayling warned of profound consequences if Parliament rejected the agreement. This will open the door to extremist political forces - "as we see it in other countries in Europe," Grayling told The Daily Mail . The minister further predicted a "less tolerant society" and a possible end to "moderate" politics in Britain.
Federal Minister of Justice Katarina Barley, however, reneged on the EU's renegotiation of the UK. There is no way around it that a country loses the benefits of EU membership when it leaves the community, said the SPD's leading candidate for the European election to the Tagesspiegel .