Arrival in Canada, the young Saudi Rahaf Mohammed al-Qunun begins a new life
The 18-year-old girl had sparked international mobilization after fleeing her family and country. The Canadian government granted him asylum.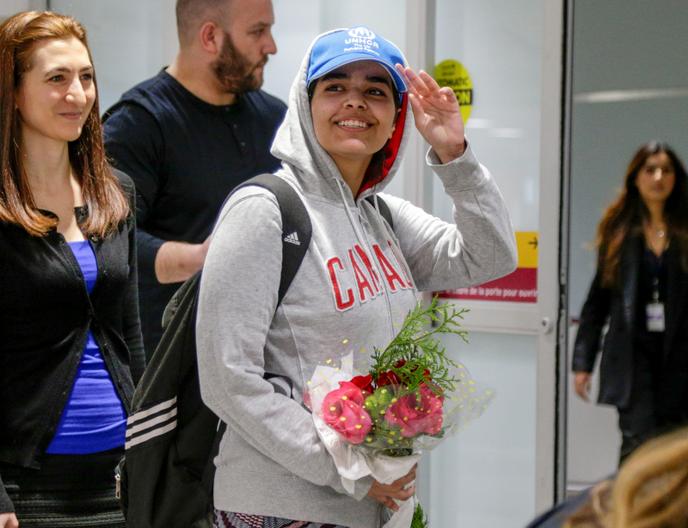 ---
Rahaf Mohammed al-Qunun arrives at Toronto's Pearson International Airport, Canada, on January 12th. CARLOS OSORIO / REUTERS
"Very happy" to be a refugee in Canada, a young Saudi woman who sparked an international mobilization after fleeing her family and country, began a new life in Toronto where she arrived on Saturday, January 12th.
Greeted at the airport by Foreign Minister Chrystia Freeland himself, Rahaf Mohammed al-Qunun, 18, briefly posed, smiling despite fatigue, for the many journalists who came to wait for him.
"She has had a very long trip, she is exhausted and prefers not to answer questions at the moment," commented the head of Canadian diplomacy Chrystia Freeland. "She is very happy to be in her new home, even though she told me about the climate. I told him it can be warmer. "She wanted Canadians to see that she had arrived in Canada," she added, taking the young woman wearing a skirt, a "Canada" sweat jacket and a blue cap with her shoulder on her shoulder. "UNHCR" (UN High Commissioner for Refugees).
Read also Thailand: Young Saudi asylum seeker leaves for Canada
On Twitter, the girl warmly thanked her host country, not without scratching the others: "The only country that really helped me in the end is Canada. The others were scared and cowards, " she commented on the social network when she arrived in Toronto.
Buy warm clothes
The Saudi woman says she wants to flee the psychological and physical abuse of her family, which denied the allegations. She says she is also in danger in her country to have the intention to renounce Islam. After appearing on the verge of finding refuge in Australia, the teenager finally turned to Canada, where the government of Prime Minister Justin Trudeau quickly granted asylum.
It was supported by the non-profit organization Costi, based in Toronto and specialized in the reception of refugees, confirmed a spokeswoman for Costi joined by Agence France-Presse. The young woman went on Saturday afternoon to do some shopping to buy warm clothes in the center of the megacity of Ontario, according to this source. She knows several people she has contacted.
Officials of the association will in the coming days help him open a bank account or complete various paperwork, before looking for permanent housing. Meanwhile, she will stay in a structure protected by guards day and night. The association advised the young woman not to reveal her precise location.
The arrival of the young woman in Canada marks the epilogue of an international odyssey that has attracted attention via social networks for a week. The young woman had gained worldwide notoriety by creating a Twitter account while she was entrenched in a hotel room at Bangkok airport, multiplying desperate messages and videos.
Barricaded behind his hotel door
A picture of her, barricaded behind her hotel door with a mattress, had been around the world. With her phone, she had assured her that she would be killed if she was forcibly repatriated. In particular, she told Human Rights Watch (HRW) that she wanted to renounce Islam, which put her "seriously in danger" if she returned to her country, says the NGO. The teenager was arrested when she arrived in Bangkok from Kuwait, where she had failed her family and sought to reach Australia.
Following a mobilization on her social media, the Thai authorities had resigned her against her will and let her leave the airport with UNHCR representatives. The UN agency, in a tweet, welcomed "the arrival of Rahaf in Canada and the decision of the Canadian government to provide protection and a long-term solution as a refugee resettled . " "As Prime Minister [Justin Trudeau] has said , Canada believes very strongly in the defense of human rights around the world, and we firmly believe that women's rights are human rights," said Chrystia Freeland.
Read also A young Saudi girl, threatened by her family, left Bangkok airport under UN protection
Canada's decision, however, risks rekindling the unprecedented diplomatic crisis that has undermined Ryad's relationship with Ottawa since last summer. Saudi Arabia announced in August the expulsion of the Canadian ambassador, recalled his and froze any new trade or investment with Canada. This decision followed a tweet from Ottawa a few days earlier calling for the immediate release of Saudi human rights activists arrested shortly before, including Samar Badaoui, sister of imprisoned blogger Raef Badawi, whose wife and three children live. refugees in Quebec.
Saudi Arabia is one of the most restrictive countries in the world for women's rights. In particular, they are subject to the guardianship of a man (father, husband or other) who exercises arbitrary authority over them and takes important decisions in their place.
Article reserved for our subscribers Read also Canada isolated in the diplomatic crisis with Saudi Arabia React or see all comments
Similar news: