Sinking of the "Great America": the oil slick could touch the French coast Sunday or Monday
According to the Minister of Ecological Transition, a pumping operation before the oil reaches the coast is made very difficult by weather conditions.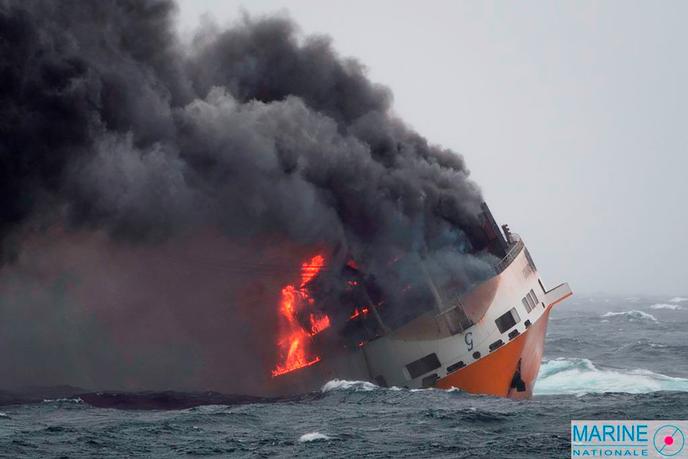 ---
The Italian ship "Grande America" ​​sank Tuesday, March 12, after a fire broke out on board. LOIC BERNARDIN / AFP
Oil slicks from the Italian ship Grande America , which sank Tuesday off Brittany, "may touch the French coast to Sunday or Monday," warned Thursday, March 14 on Franceinfo Minister of ecological transition, François de Rugy . For the time being, the departments potentially concerned are Gironde and Charente-Maritime, "but we will see whether to extend the protection zone on land" .
According to Mr. de Rugy, the oil slick on the surface of the sea - about ten kilometers long and one kilometer wide - is "most likely propulsion fuel, which fueled the engines of this ship" . The boat was carrying 365 containers, including 45 listed as containing hazardous materials, according to the Atlantic Maritime Prefect, but "it is thought that most have burned," said the minister. However, "several containers went overboard before the ship sank" and others dispersed when the boat sank.
"Unfortunately, the very poor sea state, the low visibility, have not yet made it possible to identify if these containers had sunk or if some are floating between two waters around the area where the Great America sank. . "
Mr. de Rugy assures that pumping will be attempted before the oil reaches the coast, but this operation "is made extremely difficult by the weather conditions of a winter storm . "
European aid
Wednesday, at a press conference, the prefect Jean-Louis Lozier said that the owner of the 213-meter container ship, the shipowner Grimaldi Groupa, was put on notice to "end the danger for navigation and the marine environment represented by containers and other elements adrift " and to" treat possible maritime pollution " . Also, a boat chartered by the shipowner will arrive soon on the spot, according to Mr. de Rugy, who announced having also "solicited the European authorities" and the EMSA (European Maritime Safety Agency) "will deploy at least two ships on place in addition to the two ships of the French State " .
A fire broke out on Sunday night aboard the Great America , which was carrying containers and vehicles from the port of Hamburg, Germany, to that of Casablanca, Morocco. The captain decided to abandon the ship in the night aboard a single lifeboat. The twenty-seven crew members were safely evacuated.
React or view all comments