In Toronto, the taste of Syria
True to its multicultural reputation, the Canadian metropolis hosts many Syrian refugees. Makdous, fatteh, shawarmas ... They try their tasty gastronomy, concocting a future far from the war.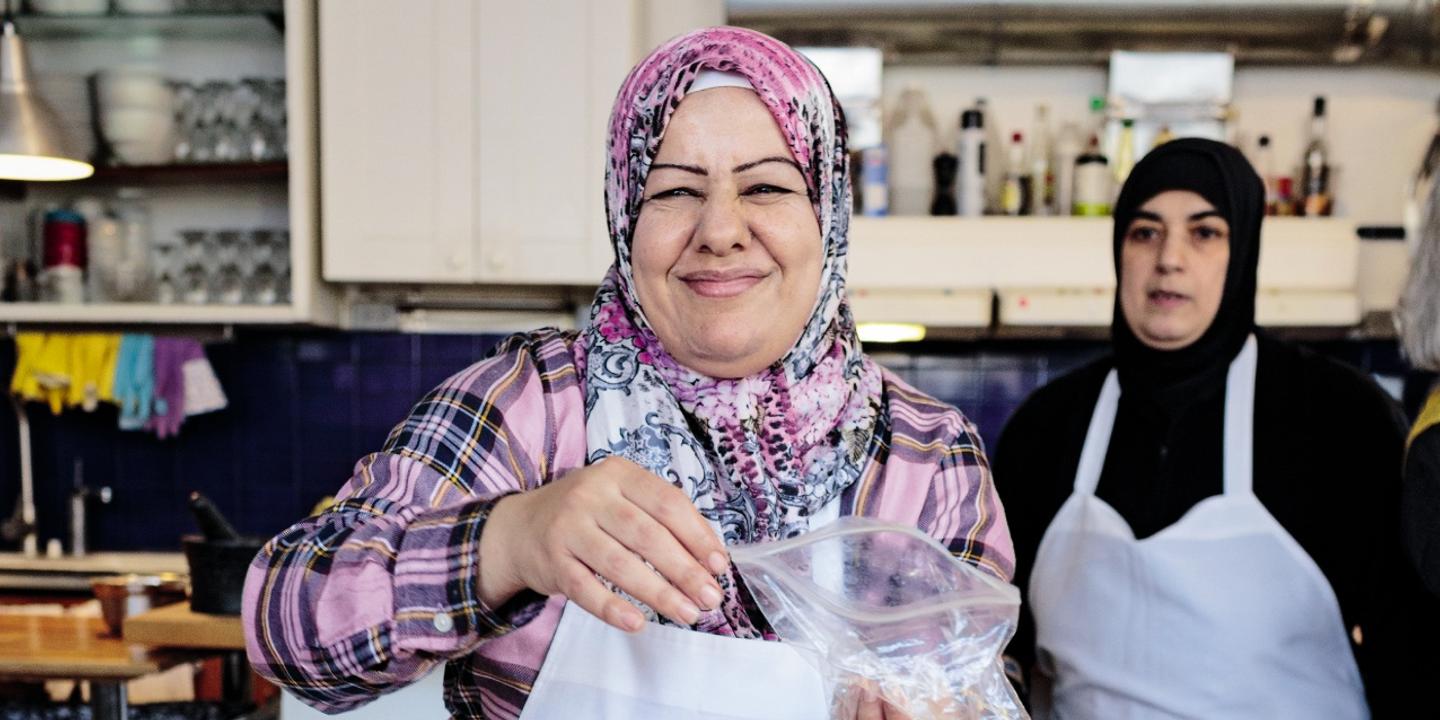 ---
Share on Facebook Share on Facebook

Share on Twitter Share on Twitter

Send by e-mail Send by e-mail
At the descent of the bus, the procession had something funereal: fourteen women wrapped in black, coats, scarves, gloves, woolen hats, hijabs. It took all the panoply to face the cold of this mordant morning of February 2016. Since their arrival in Toronto a few weeks ago, these Syrian refugees had not left the hotel paid by the government, not far from the airport. Some had never taken the metro of their life, let alone taken an escalator, or seen the snow that day covered the sidewalks and made their walk hesitant.
But as soon as they entered the kitchen where stoves and provisions awaited them, apprehension fell with their cloaks and coats. "They untied their scarf, tore off their jackets, and threw themselves on the shopping bags. Ten minutes later, they were laughing and singing. It was a miracle! These women were cooking, and they were coming back to life. Cara Benjamin-Pace works at the Depanneur, an incubator of restaurants that, one day a week, puts her downtown kitchen at the disposal of Syrian refugees. She runs this project, called Newcomer Kitchen, "the cooking of newcomers".
A recognized cuisine
On this day of October 2018, it is zucchini caviar and fatayers with musakhan, small slippers of bread dough stuffed with a preparation based on chicken, onions and sumac powder, a red berry to taste slightly astringent acidulous. For five thousand years, gastronomy has been an essential part of Syrian culture. "Damascus and Aleppo are the culinary capitals of the Levant," says Len Senater, a passionate forty-something chef who left his marketing agency to found The Depanneur in 2011.
The Depanneur welcomes Syrian refugees who cook dishes sold online (here, Ghana Alabdullah and Ahd Alobi). Liam Maloney for M The World Magazine
It is in Syria that women prepare the most sophisticated regional specialties such as makdous, young aubergines stuffed with a mixture of nuts, garlic, Aleppo pepper, and marinated in olive oil. In Damascus alone, there are twenty-five different varieties of kebbeh, these dumplings stuffed with meat and flavored with spices and herbs. "If you are Egyptian, you have better take a Syrian wife , " advises a regional proverb - a very sexist consecration. "In Syria, women put a lot of creativity, enthusiasm and know-how in the kitchen, because they do not always have the opportunity to invest elsewhere," says Len Senater.