Asylum: Rahaf al-Kunun arrived in Canada
The Saudi Arabian Rahaf al-Kunun wanted to flee from her family to Australia, but stranded in Bangkok. Now the 18-year-old landed in Canada, where she receives asylum.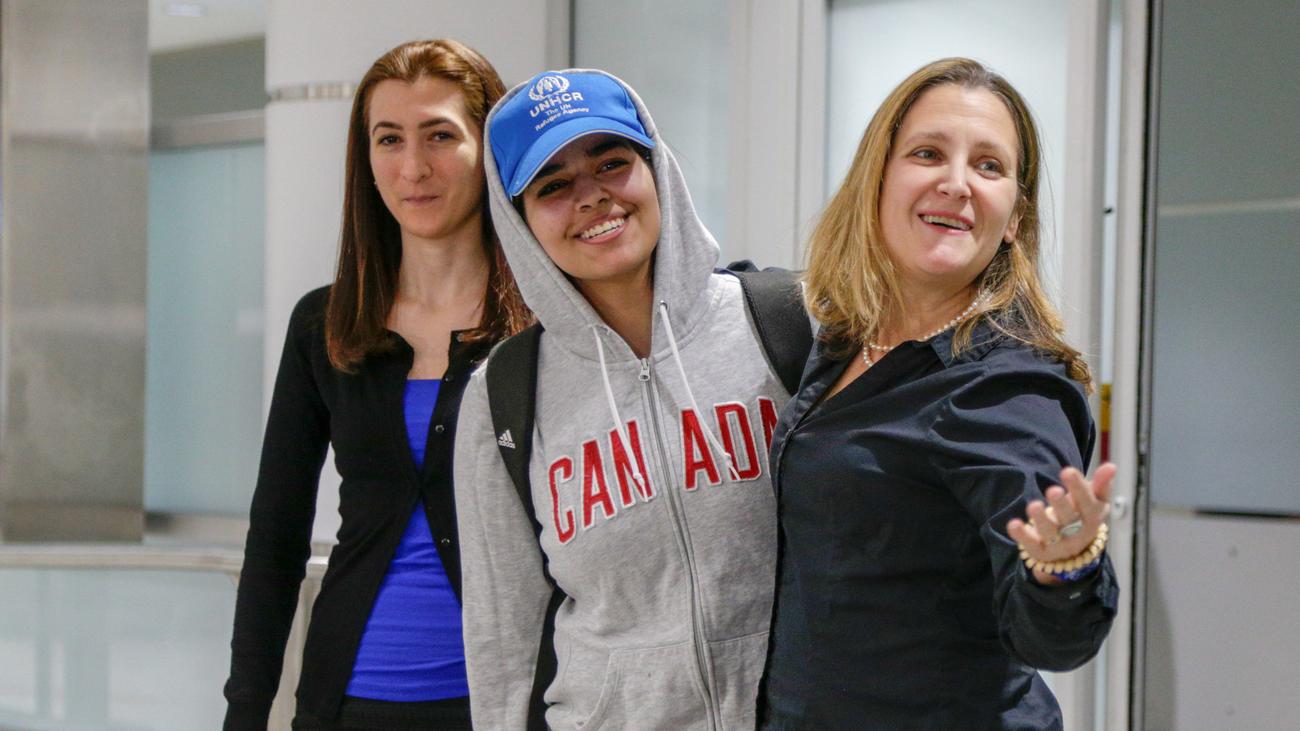 ---
Saudi Arabian Rahafal-Kunun, who fled her fear of her family, has arrived in Canada, where she receives asylum. The 18-year-old landed in Toronto after she was stuck in Bangkok for days, where she had been stopped while fleeing.
At the airport, al-Kunun was received by Canadian Foreign Minister Chrystia Freeland. "She has a very long journey behind her, she is exhausted and at the moment she does not want to answer her questions," Freeland told the numerous journalists. The Saudi Arabian was wearing a jacket with the imprint "Canada" on her arrival.
Last weekend, the Saudi Arabian landed at Bangkok International Airport with a Kuwait plane and wanted to continue to travel to Australia - however, she was stopped after Australia canceled her visa and her passport was taken from her in the Thai capital. The Thai authorities initially threatened her with repatriation to Saudi Arabia. Al-Kunun barricaded himself in a hotel room and made word about her fate on Twitter. Ultimately, she was able to prevent her deportation by providing protection for the UNHCR refugee agency.
Rahaf al-Kunun was beaten by male relatives
Rahaf Mohammed al-Kunun fled claims to be from Saudi Arabia because she was beaten by male relatives. They allegedly locked relatives to their room for half a year for cutting their hair. In addition, she is said to have been threatened with death. During a stay with the family in Kuwait, she managed to escape, she reported on Twitter. A return to her family would endanger her.
The young woman herself thanked Twitter for the help she says saves her life.
I would like to thank you for supporting and enjoying my life. Truly I never dreamed of this love and support
You are the spark that would motivate me to be a better person
- Rahaf Mohammed رهف محمد (@ rahaf84427714) January 11, 2019
Women are subject to strict restrictions in Saudi Arabia. Even in adulthood, they are under the tutelage of their male relatives. Thus, they need the consent of their husbands, fathers or other male relatives before traveling or studying certain professions. In public, they must completely cover their bodies.